About this Project
Using Heritage Lottery funding we have recorded local memories of the Roswell area. This has been a hugely enjoyable and exciting project and we have recorded a wealth of memories and stories from people who have known and loved the Roswell area for generations, as well as those who have discovered the area more recently.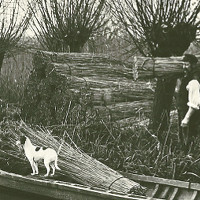 There are wonderful stories of the heroic work during the 1947 floods when local men, the army and prisoners of war battled to save the Fens. The area has a rich history of employment and we have stories of digging for gault, working for the drainage boards and the Environment Agency, of farming and fishing for eels.
Roswell has long been enjoyed by nature lovers and its importance as a nationally significant area for wildlife was recognized in 2009 when Natural England designated it as a Site of Special Scientific Interest. We have delightful stories of rare sightings from keen nature watchers and stories of casual encounters with foxes and moles.
Our queries about Ely's World War Two defences have been answered by men who played there in the 1940s and we have so many wonderful childhood memories that we have made a separate section for them and have included some activity sheets especially for children.
Our podcast or audio trail has been designed and timed to enhance people's enjoyment as they follow a route around Roswell accompanied by extracts from the oral histories. It can also be enjoyed as a stand-alone audio .We have produced Trail guides and QR panels.
Our website is divided into sections, each one telling the story of that particular place. The Archive section contains all the individual recordings and galleries of fascinating of old and new photographs, including a video of a bittern on ice. Thanks to the generosity of local people who have shared their memories ,family stories and precious photographs we have been able to tell the stories of Roswell Pits and Meadows in two easily accessible digital formats . We hope you enjoy sharing these stories and that you will in turn share them with friends and family.